ENERGIZER, FREEBATT AND BLACK TIGER
1. Validity Warranty:
18 months on Energizer and 12 months on FreeBatt and Black Tiger batteries from date of purchase for private consumer use (i.e. for Passenger and SUV vehicles)
Six months from date of purchase for commercial consumer use
2. The warranty on your battery is invalid if:
There is physical damage due to mishandling (e.g. damaged terminals, broken casing)
The electrical system of the vehicle is faulty leading to undercharging or overcharging
Repairs have been done prior to the battery being presented for claim (e.g. refilling the terminals)
Battery has been short circuited
3. For your claim to be processed:
You must provide proof of purchase
Both the battery and the vehicle it was fitted in should be presented to the vendor or the nearest AutoXpress branch
4.Your claim will be rejected if the battery fails to meet any of the above warranty condition
5.The warranty of replaced battery is valid from the original date of purchase of the faulty battery
BATTERY TIPS
1. Ensure that the battery purchased is the correct type and size required for your vehicle
2. Ensure correct fitting on the designated battery tray i.e. terminals clamped firmly but not so tight as to damage them
3. The vehicle's electrical (charging) system should be checked to ensure it is in good working condition at all times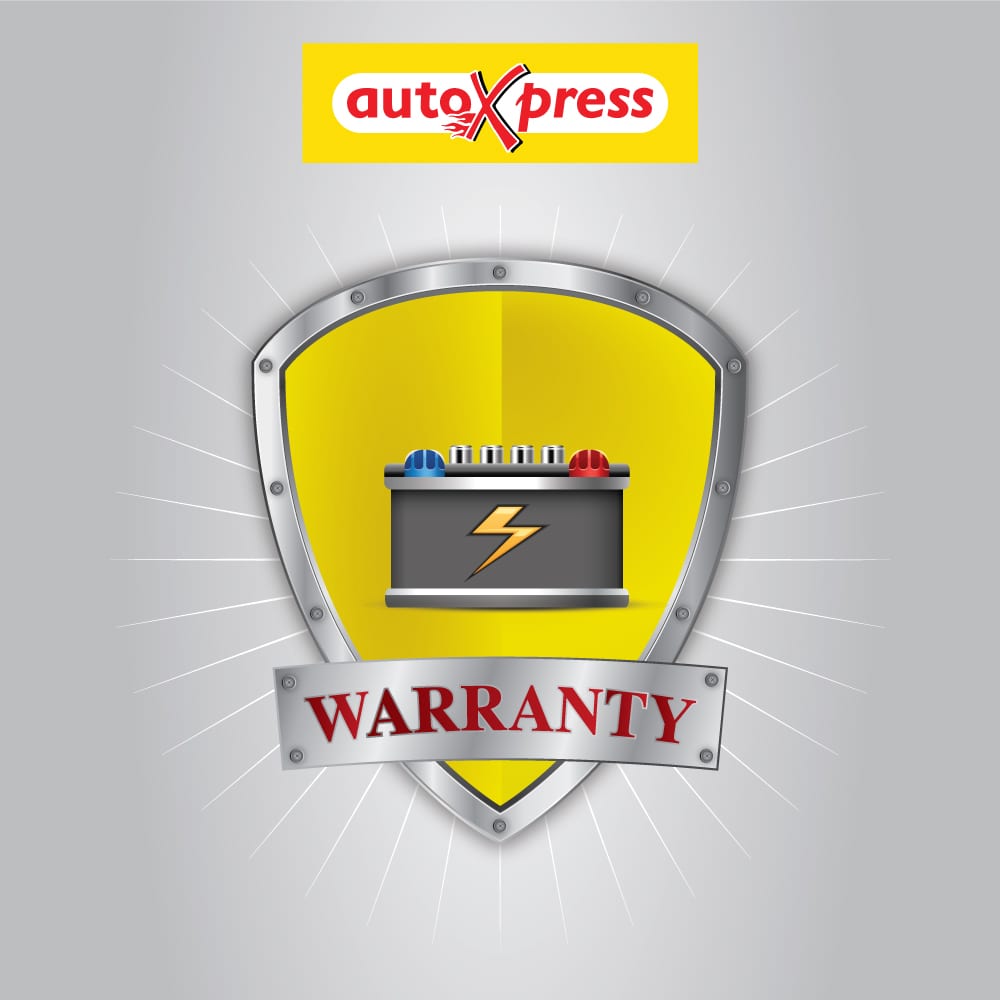 SHOCK ABSORBER WARRANTIES
---
    KYB SHOCKS
The KYB shock absorbers bought and fitted at AutoXpress branches are warranted against faulty manufacture and/or faulty materials:

KYB Shock Absorbers, fitted at AutoXpress branches are warranted against faulty manufacture and/or faulty materials for a period of 6-months/10,000kms or 12-month/20,000km when fitted with new coils
If you replace only the shock absorber and if the workshop manager confirms that the existing coil spring is in good condition and does not need to be replaced – you are covered for a period of 6 months from date of purchase or 10,000 KM, whichever comes first

The liability of AutoXpress Limited is limited to the supply of a replacement unit free of charge for the above mentioned (1) product returned to AutoXpress Ltd at the user's expense within the warranty period and which are proved to AutoXpress Limited's reasonable satisfaction to have failed by reason of faulty manufacture and/or materials
The replacement unit will be similarly warranted but only for the balance of the duration of the original warranty
The warranty will only be applicable to goods which the user proves became defective in normal and proper use
Under no circumstances shall AutoXpress Limited be liable for loss of profit, or any other consequential loss, or damage from whatever cause arising and for any labour charges
Warranties do not cover shock absorber end fittings (eyes, pins, bushes, washers,etc.)
Warranties do not cover KYB shock absorbers that are used for applications other than those listed in the latest, AutoXpress Limited price list, or have been modified, or have external damage, or have over heated, or have damage sustained to the piston rod of unit, inflicted by tools or stones and have excessive wear caused by misalignment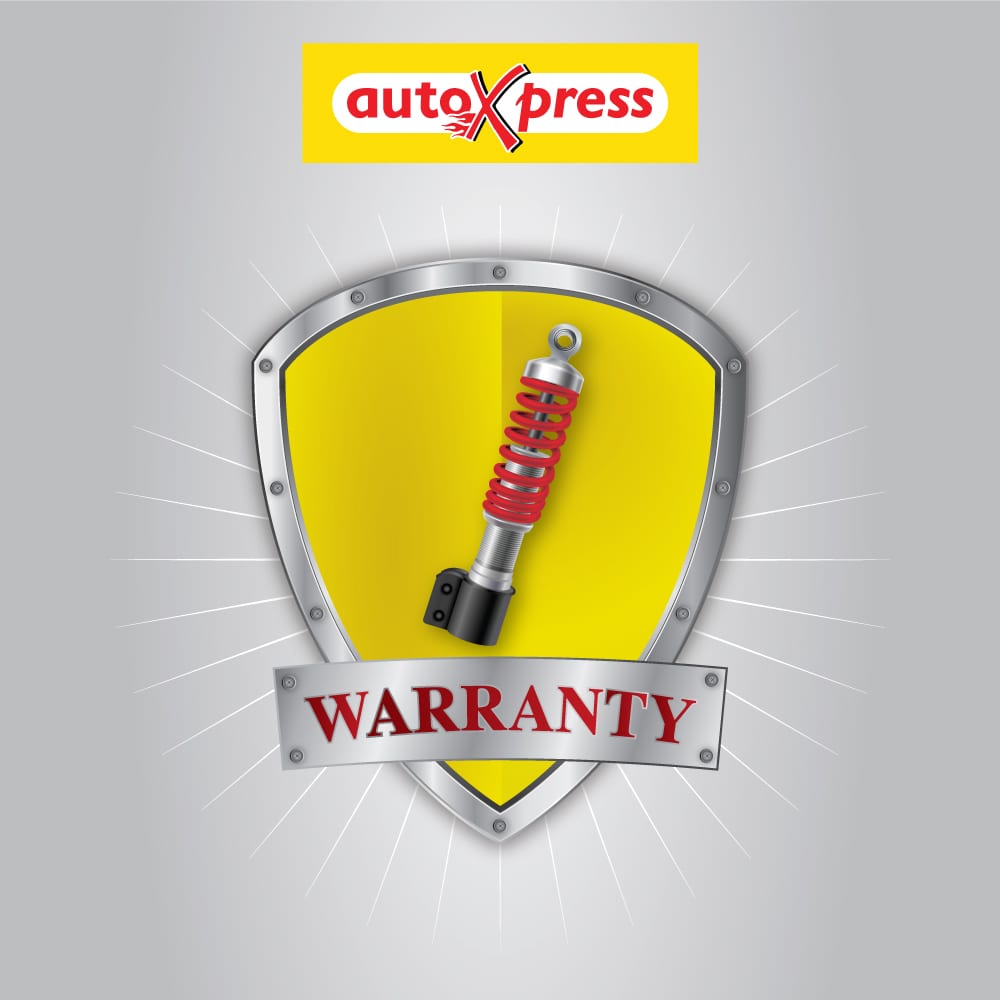 TYRE MANUFACTURER WARRANTIES
---
ALL TYRE BRANDS
All tyre brands sold by AutoXpress Limited represent their own Tyre Manufacturer Warranty. These warranties include elements such as, the number of years a tyre is covered for against manufacturing defects and will indicate if the warranty is valid from date of manufacture or date of sale, as this may differ for each brand.
For full tyre manufacturer warranty details, please visit each brand's website.
Common elements that are NOT covered by the manufacturer's warranty:
Any damage to a tyre that occurred as a result of using the tyre for any other reason that it was designed for
Any road hazard injuries or damages caused by obstacles or debris, such as cuts, punctures (whether repairable or not), snags, bruises, tears, abrasions or impact breaks
Improper repairs or repairs that have failed
Improper inflation or other maintenance abuse such as balancing and wheel alignment not being done every 10,000 kms
Improper application of the tyre size and/or specification
Improper mounting/dismounting procedures or tyre assembly balance
Mechanical irregularities in the vehicle or wheel, such as bent wheel assemblies, misalignment, defective brakes, defective shock absorbers, worn or faulty components
Accident, corrosion, vandalism, fire or damage caused by nature
The use of fillers, sealants, balancing substances and external treatments or materials of any kind
Tyres with ride disturbance complaints that have more than 1mm tread wear
Tyres transferred from the original vehicle on which they were originally installed
Tyres that have been re-treaded, re-grooved or not repaired in an approved manner
Tyres which have been modified by the addition or removal of material or any tyre intentionally altered to change its appearance
Tyres used in racing or other competitive motor sport events
Flat spot caused by improper transport or storage
Tyres that the trademark, serial number or D.O.T number is worn or shows signs of having been tampered with.
In addition to manufacturers warranties, AutoXpress Limited have our own XtraSure Tyre Damage Guarantee (XS TDG) that covers all road hazards that are not part of the manufacturers warranties as highlighted above. See the next sections about XS TDG.